Association Name : Japan Sri Lanka Technical and Cultural Association (JASTECA)

Country : Sri Lanka

Date of Establishment : 1984

Brief Description of Association :
Japan Sri Lanka Technical and Cultural Association, established in 1984 is a non profit service organization and functions as the alumni of the Association for Overseas Technical Scholarship (AOTS) Now Known as the overseas Human Resources and Industry Development Association (HIDA) Japan. The Executive Committee and the membership of JASTECA consists of returned trainees of AOTS scholarship programs, who have volunteered their services to coordinate scholarship activities and also to disseminate the knowledge and expertise gained in Japan to other Sri Lankans.

Vision
To be recognised as one of the best managed AOTS Alumni Associations in the world and a leading Association in Sri Lanka promoting human resource development and transfer of technology.

Mission
To build cultural and business relationship between Japan and Sri Lanka
To promote cultural and business links with other countries through the network of AOTS Alumni Societies
To contribute to the economic and social development of Sri Lanka
To promote the further development of the World Network of Friendship5. To harness the potential and improve the quality of life of our members
To harness the potential and improve the quality of life of our members
Name of Contact Person for Correspondence :
President : Mr. Gamini Marambe ( +94-77-12727054 / Gamini Marambe )
General Secretary : Mr. Anuruddha Gamage (+94-77 0456282 / Anuruddha Gamage )
JASTECA Admin Office : info@jasteca.net ; jacinthad@jasteca.net

Contact Address :
JASTECA ,
SASAKAWA Memorial Sri Lanka Japan Cultural Centre,
No.4, BalaTampoe Lane,
Colombo 3.


Phone :
Tel: +94-11-2337007 / Fax: +94-11-2449057

Email :
info@jasteca.net

Website of Association :
www.jasteca.net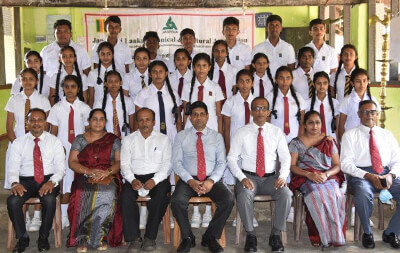 MADAM OGAWA SCHOLARSHIP 2020
21st Madam Ogawa Scholarships held on Sunday, 15th November 2020, Monaragala Education area in Monaragala District.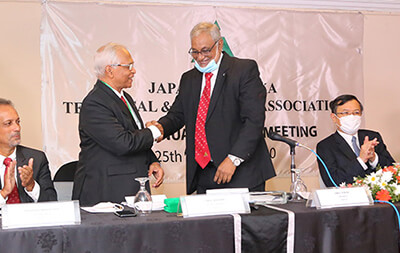 34th Annual General Meeting
34th JASTECA Annual General Meeting held on 25th September 2020.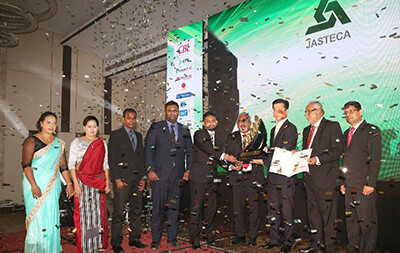 JASTECA Awards 2019
The Annual JASTECA Awards 2019 Ceremony was held for the 24th Consecutive year on 22nd August 2020 at Grand Ballroom of Hotel Galadari, under the chairmanship of Mr. Mangala Samarajeewa. The Awards Ceremony was held adhering to the health department rules with limited number of participants. The Ceremony held under the patronage of Chief guest Mr. Toshihiro Kitamura – Minister /Deputy Head of Mission - Embassy of Japan in Sri Lanka. Large number of companies took part of this competition and the winners were recognized in the categories of Large, Medium and small Categories of the Taiki Akimoto 5S competition and Nagaaki Yamamoto Kaizen Competition, Ian Dias Abeysinghe Memorial CSR Sustainability Awards Scheme. The Awards Ceremony was graced by other members of Embassy of Japan and Invitees.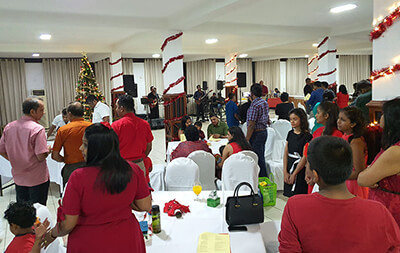 CHRISTMAS PARTY 2019
Christmas party held on 7th December 2019 – at Sri Lanka Foundation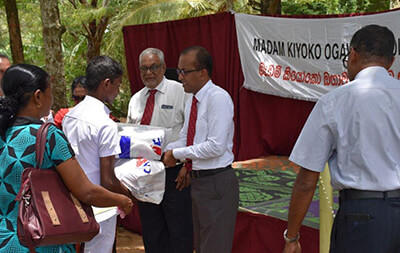 MADAM OGAWA SCHOLARSHIP 2019
20th Madam Ogawa Scholarships held on 22nd September 2019 at Ampara, Bakmitiyawa School.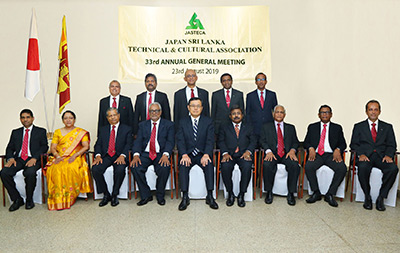 33rd ANNUAL GENERAL MEETING
The 33rd AGM was held on the 23rd August 2019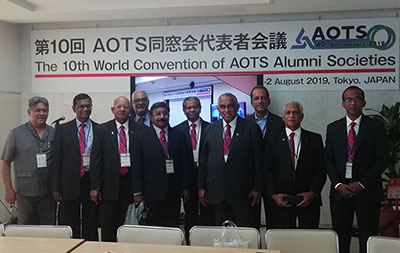 AOTS 10th world convention / 60th anniversary - JASTECA members visit to AOTS Japan July - Aug 2019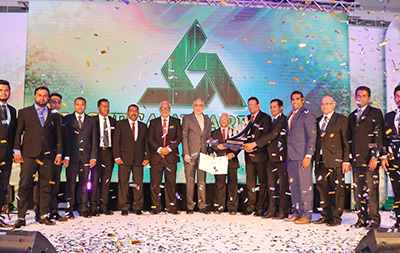 JASTECA Awards 2018
The Annual JASTECA Awards ceremony was held for the 23rd consecutive year on March 2nd, 2019, at Grand Ballroom of Hotel Galadari. The ceremony was held under the patronage of Aslam Omar, CEO of Phonix Ventures Ltd, the holding company of Brandix Group. Japan Ambassador His Excellency Akira Sugiyama was the Guest of Honour. A large number of companies took part in the 2018 competition and the winners were recognized in the categories of Taike Akimoto 5S competition, Nagaaki Yamamoto kaizen competition and Ian Dias Abeysinghe memorial CSR sustainability Award Scheme. The occasion was graced by General managers of Association for Overseas Technical Corporation and Sustainable partnerships (AOTS) in Japan Yasumi Suzuki, Hiashi Kanda and Toshiko Kawanami -The course Director for most of Sri Lankan Management Training Programmes at AOTS.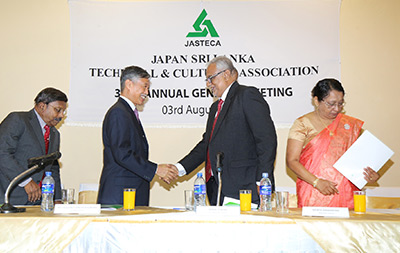 32ND ANNUAL GENERAL MEETING
The 32nd AGM was held on the 3rd August 2018, at Sasakawa Hall, H.E. Kenichichi Suganuma- the Patron for JASTECA headed the AGM. (Currently our Patron is H.E. Akira Sugiyama) The AGM unanimously appointed Mr. Nimal Perera as the president for the term of 2018-2020 period. Mr. Sunil Ratnayake is the newly appointed General Secretary. JASTECA body includes the Trustee and the Exco Members.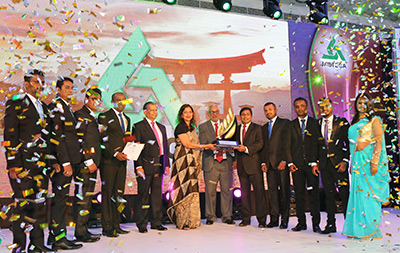 ANNUAL JASTECA 5S AWARDS
Annual JASTECA 5S Awards was held on 3rd March 2018 at Hotel Galadari, Mrs, Sheamalie Weerasekara - Managing Director - CBL Biscuits Limited, H.E Kenichi Suganuma, Ambassador of Japan in Srilanka was the Guest of Honor. 82 Companies participated in the competition, in which Taiki Akimoto 5S Award Gold Winner was MAS Active (Pvt) Ltd - Linea, Intimo under the Large Category.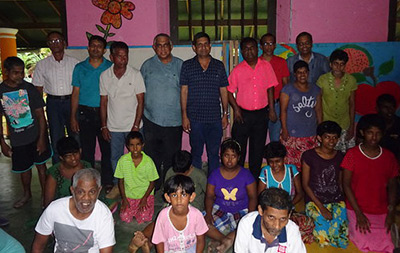 FOUNDERS' DAY EVENT
JASTECA Founders Day is dedicated for the founder members of JASTECA - Late, Ian Dias Abeyasinghe (Year of Presidency 1984 - 1991), Late, Lal De Alwis (year of Presidency 1993 - 1997) and Late, Bertie Kulatilake (Year of Presidency 1999 - 2003).
This year it was celebrated on 22nd September 2018 by making a visit to a differently abled orphanage in the Galle district in which JASTECA donated Dry rations and household equipment.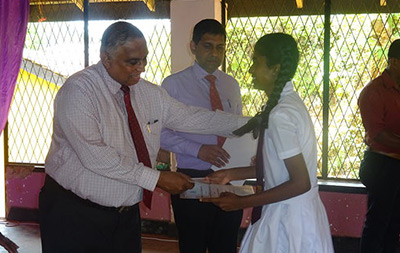 MADAM OGAWA SCHOLARSHIP 2018
Madam Ogawa Scholarship Programme was opened by Madam Ogawa to support the financially under privileged student with scholarships for a period of 2 years to pursue the Advanced Level Examination. Dry rations and stationery items were gifted to the students. Every year different locations all over Sri-Lanka is selected and the donations are distributed. Likewise, this year 23rd of September 2018- was held in the Galle District- Udugama Maha Vidyalaya. Until now 483 students have received the scholarships.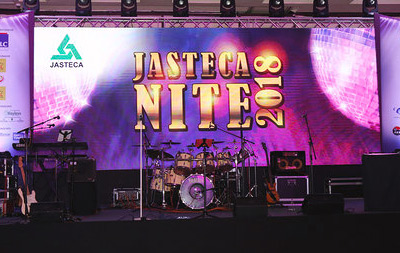 JASTECA NITE DINNER DANCE 2018
JASTECA Nite Dinner Dance is for the members of JASTECA, this year it was held on 30th June 2018 at the Water's Edge, JASTECA members participated in the event.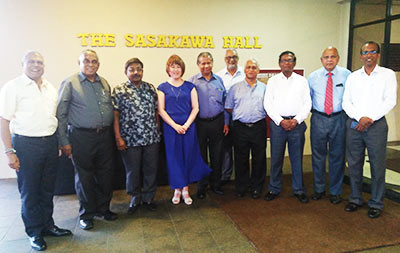 NARITA ASAKO'S COMPANY VISITS
Narita Asako visited (From 9th July 2018 to 13th July 2018) Sri-Lanka in order to get the feedback from the participants who have been to Japan for various training programmes. She went on company visits and met with several company heads / Employees who are returned trainees.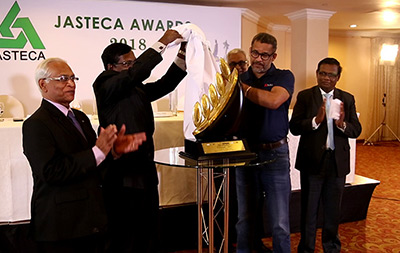 LAUNCH OF JASTECA AWARDS 2018
The 5S launch of the JASTECA Awards 2018 was held at the Hotel Galadari, Colombo on 28th August 2018. A large representation from the corporate sector attended this event. The award was unveiled by Mr. Sunil Wijesinha (Past President, JASTECA) and Mr. Shri Skandaraj (Group Director, Lean Enterprise MAS Capital).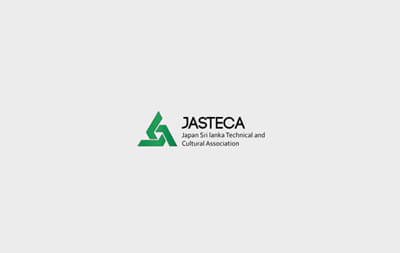 AWARENESS SEMINAR 5S & KAIZEN
Prior to the 5S competition for JASTECA Awards, Awareness Seminar on 5S and Kaizen was conducted by Mr. Sunil Wijesinhe on 11th September 2018. Over 100 participants practicing the 5S Concept and Kaizen attended this Seminar.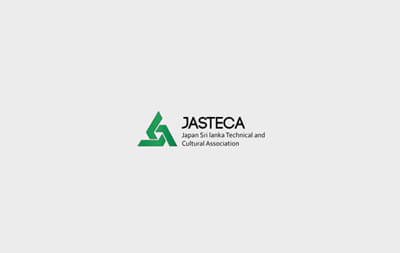 GHC INTERNSHIP PROGRAMME
The first intern for the year was Mr. Shimoharu Yutaro - from Sumitomo Dainippon Pharma Co-ltd. He worked for Morisons (Kelaniya)- for the period of 2nd April 2018 to 21st September 2018. The second intern - Ms. Tomoko Ohimo- From Kuboto Corporation. She worked for Kelani Cables (Kelaniya)- for the period of 19th November 2018 to 15th December 2018.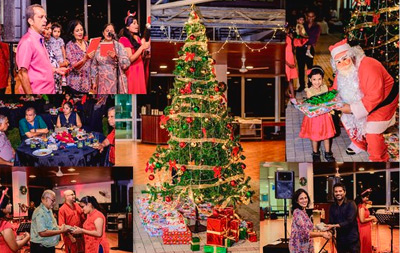 ANNUAL JASTECA CHRISTMAS PARTY 2018
Annual Christmas get together of families of JASTECA members, was held on 15th of December 2018 at Sri-Lanka Foundation Institute.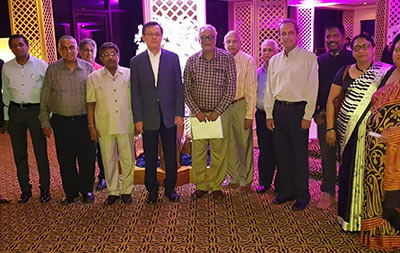 WELCOMING THE NEW AMBASSADOR 2018
Our new patron H.E. Akira Sugiyama was welcomed by the Exco committee of JASTECA at the Galadari Hotel Colombo, with the fellowship dinner.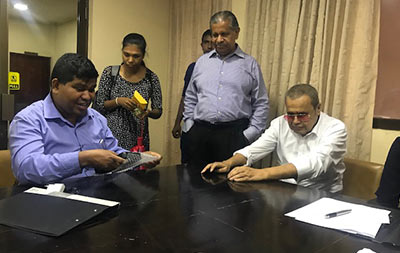 JASTECA CSR ACTIVITY
A Digital Braille machine was donated to a differently abled (Blind) person, who is an author for English Grammar books, which the agent was also differently abled (Blind).

JASTECA role recognized by two Heads of State – Japan and Sri Lanka
Joint Statement between Sri Lanka and Japan by the Heads of State His Excellency Mahinda Rajapaksa and His Excellency Shinzo Abe recognizes the role played by JASTECA (Japan Sri Lanka Technical Cultural Association)




On the conclusion of the official talks between the Sri Lankan and Japanese delegations, The Prime Minister of Japan, His Excellency Shinzo Abe and His Excellency Mahinda Rajapaksa, at the Presidential Secretariat in Colombo on 7th September 2014, a Joint Statement was issued between Sri Lanka and Japan

In this statement in point No 24 , the two leaders appreciated the role played by Japan Sri Lanka Technical and Cultural Association (JASTECA) which is an alumni association of the current Overseas Human Resources and Industry Development Association (HIDA) in introducing Japanese-style management skills and know-how in Sri Lanka.


Meeting with the Hon State Minister of METI
The senior vice Minister Kazuyoshi Akaba and his senior delegation of 5 members was met by the President, Vice Patrons and the General Secretary of JASTECA at a meeting held on 28th July, 2014 at the Residence of His Excellency the Ambassador.

JASTECA informed the Minister of some of the activities of JASTECA with Japan, where training has been given for 3,500 members who are now maintaining and practicing Japanese style of management systems in Sri Lanka. The senior vice Minister of Economy Trade and Industry (METI) Mr. Kazuyoshi Akaba was pleased that METI had contributed immensely in developing management skills of such a vast number of personnel from diverse industries.




JASTECA presented to the Hon vice Minister a plaque to commemorate the 30 year relationship of JASTECA and Ministry of Economy Trade and Industry Japan. Picture shows President of JASTECA Athulla Edirisinghe making the presentation. Also in the picture are Nihal Seneviratne, Dayasiri Warnakulasooriya, Ambassador Nobuhito Hobo, Lal De Alwis and Berty Kulatilake.





Meeting with the Hon State Minister of MLIT
Visiting Japanese vice Minister of the Ministry of Land, Infrastructure, Transport and Tourism (MLIT) Manabu Sakai had a meeting with senior members of the Japan-Sri Lanka Technical and Cultural Association (JASTECA), which is an associate organization of The Overseas Human Resources and Industry Development Association (HIDA) Japan. Mr. Edirisinghe, President of JASTECA gave details of possibilities of future collaboration between MLIT and JASTECA in providing Human Resource Development and Training in specialized fields. He further stated that JASTECA, through its competent alumni members can undertake special skills development programs in case Sri Lankan manpower is sought for future needs of Japan.

On behalf of JASTECA, Mr Edirisinghe thanked the Vice Minister for his Ministry's contribution towards the Colombo City Master plan which will eventually result in minimizing the traffic congestion in the city and stated that millions of Sri Lankans will be grateful to Japan for this gesture.


Report on the progress of JASTECA Institute of Management (JIM)
During the past year, JASTECA Institute of Management (JIM), which is the training arm of JASTECA, was able to establish itself as a prominent player in the local management training industry. The glowing reputation of JASTECA, which has contributed immensely towards Sri Lanka's business sector through the development of Human Resources and Japanese Management, has benefitted the management of JIM when promoting training programs and attracting participants for our seminars.

JIM has conducted an array of training programs on a wide range of topics from June 2013 to July 2014. These programs could be classified as both public programs and in-house programs.

Overall, in both public and in-house training programs, JIM has trained approximately 1500 personnel from both public and private sector organizations in the country during the period under review, which are a significant milestone and an achievement for the institute.

In general, JIM has been able to live up to its vision and mission, which is to contribute significantly towards productivity and efficiency of the country's corporate sector through the development of human resources.



A Lecture in progress



Participants at a seminar


Japanese Language Education Association (JLEA)
The Japanese Language Education Association (JLEA) concluded yet another successful year conducting Japanese Language education in Sri Lanka as the Premier Japanese Language Education Institute. This was possible due to the dedicated contribution made by both the Japanese and Sri-Lankan teachers resulting in a very high standard of education achieved by the students of JLEA. We are indeed proud of this achievement. Over 1250 students enrolled for Japanese language classes during this period.



Answer scripts of JLPT Examination ready to be couriered to Japan



Pre JLPT Examination, administration work of JLEA in progress


WNF Program
The WNF funding has been extremely useful for Alumni Societies in dispatching trainees to countries other than Japan in order to receive valuable technological training. JASTECA also dispatches some trainees to Thailand which has been extremely beneficial to Sri Lankan trainees in areas such as post-harvest technology, lean management, electronic management etc. And some of them have even benefited tremendously by visiting factories where Toyota Operating System is implemented. On their return to Sri Lanka they are engaged in implementing what they have observed and studied in Thailand.


FULLY FUNDED PROGRAMMES (NGC)
Fully Funded Programs under New Global Cooperation was introduced by HIDA to AOTS Alumni Societies at the 8th World Convention held in Japan. Since then JASTECA has made use of this extremely valuable programme in spite of the higher cost than the AOTS HIDA sponsored Alumni Scholarships. The objective of the Sri Lankan companies is to expose their senior staff to management concepts practiced by Japanese companies as well as gain the opportunity to listen to world class lectures by highly reputed Japanese professionals.


METI/HIDA INTERNSHIP
JASTECA was privileged to have Ms. Mariko Iida as an internee who visited Sri Lanka on a training programme for a period of three months. JASTECA provided internship training to Ms. Ida in the hospitality industry in Sri Lanka. Accordingly JASTECA arranged several training programs in many leading five star hotels in Colombo for her. Sri Lanka has consistently increased the number of tourist arrivals from different parts of the world including Japan. In fact as at end of August, we welcomed the millionth tourist for this year. Thus our target of 1.5 million tourists for this year is achievable. Sri Lanka has doubled the tourist arrivals from Japan. The hospitality organizations in Sri Lanka would welcome Japanese internees who are connected to the hospitality sector. Mariko Ida san appreciated and understood the internship programme in Sri Lanka very much with the strong support from JASTECA.



Ms. Marlko the intern, Mr. Sakishige (JETRO) & Mr. Waragai Yasuaki


JASTECA Awards 2013
The highlight of JASTECA's calendar is the JASTECA Awards Ceremony which was held on 17th January 2014 for the 18th consecutive year. This comprises of three awards namely, the Taiki Akimoto 5S Award, The Nagasaki Yamamoto KAIZEN Award and the Ian Dias Abeysinghe CSR Award.

Mobitel (Pvt) Ltd Head office won the prestigious Taiki Akimoto 5S Award, NOLIMIT Kandy & Negombo jointly were the 1st runner-ups. The second runner-up was Hatton National Bank PLC – Pettah.

The Nagasaki Yamamoto Kaizen Award was won jointly by NOLIMIT Kandy and Glitz Negombo. New criteria were introduced to select Ian Dias Abeysinghe CSR Award winner and it was won by Commercial Bank of Ceylon.



Taiki Akimoto 5S Award winner Mobitel (Pvt) Ltd accepting the award from His Execellency Ambassador Nobuhito Hobo.



Ian Dias Abeysinghe CSR Award winner Commercial Bank of Ceylon PLC accepting the award from His Execellency Ambassador Nobuhito Hobo



Kaizen Award winner NOLIMIT accepting the award from Guest of Honour Deshamanya Mahesh Amalean


SAFAAS Activities
The Executive Committee Meeting was held in Mumbai India, with the opening of new HIDA office. General Secretary of SAFAAS Mr. Gamini Marambe and JASTECA President and Senior vice Patron participated the meeting. 11th SAFAAS convention will be held in Kerala India and New President and the General Secretary was appointed.

JASTECA had initiated to hold a Regional workshop and seminar during January 2015. Details of same have been circulated by the President to all SAFAAS members, Mr. Mitani of HIDA New Delhi Office and HIDA, Japan. Further details will be presented at the SAFAAS Group Meeting in October 2014 in Tokyo. Two renowned resource persons have been identified for a one day workshop and a visit to a world class factory has been arranged on day two of the workshop.


Members' Night & Dinner Dance 2014
Japan Sri Lanka Technical & Cultural Association organized a Members' Nite & Dinner Dance "Cherry Blossoms" on Saturday 10th May 2014 at the Grand Oriental Hotel, Colombo.

This event was well attended by members, their spouses and guests. A gathering of over 275 participants enjoyed the evening with a live band in attendance.

His Excellency the Ambassador for Japan in Sri Lanka Nobohito Hobo and Madam Hobo graced this occasion. There were many prizes and surprises for the attendees.

The proceeds of this event will be utilized for JASTECA's Corporate Social Responsibility activities.



His Excellency Ambassador Nobuhito Hobo addressing the attendees



Members enjoying themselves



Mr. Edirisinghe President of JASTECA presenting a gift to a winner.


Report on the Donation of 10 Computers to 2 Schools in the Dimbulagala Education Zone
JASTECA on an approval from the Nippon Foundation donated the 10 Personal Computers, which were originally donated by the Nippon Foundation to the JASTECA Computer School to the Kashyapa Maha Vidyalaya in Dimbulagala and Wile Yaya Maha Vidyalaya in Aralaganvila in the Eastern Province of Sri Lanka on 30th March 2014. The two schools were selected as needy schools by the Deputy Director of the Zonal Education Office in Dimbulagala , Sri Lanka out of 102 schools which fall under the Dimbulagala, Sri Lanka Education Zone. Mr. Sunimal Weerasooriya and Mr. Chandana Amaratunga attended the handing over ceremonies held at the two schools representing JASTECA.

Donation of computers to Kashyapa Maha Vidyalaya in Dimbulagala and Wile Yaya Maha Vidyalaya in Aralaganvila on 30th March 2014.





Madam Kiyoko Ogawa Scholarship Program-2014
The "15th Madam Kiyoko Ogawa Scholarship Award Ceremony" was held on Sunday 03rd August 2014 at MN/Thatchanamaruthamadhu Government Tamil Mixed School – Madhu in Mannar District. 25 scholarships were awarded to 25 needy students from Mannar District, Sri Lanka. Madam Ogawa, the Donor of the fund participated as the Chief Guest. Out of the 25 scholarships, 17 scholarships were funded by private donors and members of JASTECA. Mr Mangala Samarajeewa took a lead role in organizing the scholarship program as the Chairman of the committee.



JASTECA Team, Zonal Director of Education, Teachers and Students who received scholarships



Madam Ogawa, Mr. Edirisinghe (President of JASTECA) and Mr.Dayasiri Warnakulasooriya (Vice Patron of JASTECA) presenting a scholarship and a gift.


JASTECA Social Network Sub-committee Report – 2014
The JASTECA Executive Committee with the sole intention of bringing its general membership together with their families and to create cordial fellowship for much better inter-action inaugurated the Social Network Subcommittee. The Social Network Committee comprises of members from the general membership. This gives them an opportunity to be closely linked with the Executive Committee and also to bring about new thinking for projects to involve other members.

This Committee conducted a "Sing-along" Musical Evening on 16 August 2014 at the Sasakawa auditorium for the benefit of the members & their families. His Excellency the Ambassador Nobuhito Hobo and Madam Hobo were in attendance.



Participants at "Sing-along"


JASTECA Christmas Party
The JASTECA Annual Christmas Party was held in December 2013 at the Fingara Club, Nugegoda. This was basically organized for the general membership of JASTECA and their extended families.



Children enjoying at the Christmas party – 2013

Quarterly Newsletter
JASTECA has been circulating quarterly Newsletters to all its members. This gives news and details of coming events and social programs as well as the scholarship programs which are available for the general membership. This also highlights interviews with prominent personnel giving views and ideas for the development of the business climate in Sri Lanka for those interested in investing in varied areas of business.


| | | | |
| --- | --- | --- | --- |
| | His Excellency Akira Sugiyama | Ambassador for Japan in Sri Lanka | |
| | Dayasiri Warnakulasooriya | Vice Patron | |
| | Tilak De Zoysa | Vice Patron | |
| | Gamini Marambe | President | View Profile |
| | Nimal Perera | Immediate past president | View Profile |
| | Chandana Amaratunga | Senior Vice President | |
| | Mangala Samarajeewa | Vice President | |
| | Anuruddha Gamage | General Secretary | |
| | Nirosh De Silva | Assistant General Secretary | |
| | Tyrell Roche | Treasurer | |
| | Thilina Tippalagama | Committee Member | |